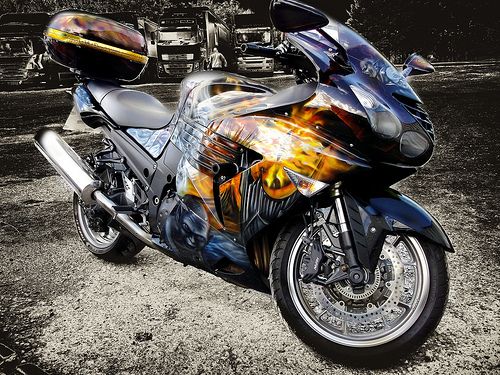 Custom graphics can add a unique and eye-catching touch to your street bike. However, choosing suitable graphics for your motorcycle requires careful consideration. From the quality of the graphics material to the design and colors, there are several essential factors to remember when selecting. The article will explore the fundamental elements to consider when choosing custom graphics for your street bike, giving you the information you need to make the best decision for your bike's look and style.
State of the Art Technology
One of the essential factors to consider when choosing custom graphics for your street bike is the state-of-the-art technology used in designing the graphics. Look for a provider that uses the latest printing technology, such as digital printing, to ensure the graphics are clear, vibrant, and resistant to fading or peeling. Also, modern design software can enable you to create intricate, detailed designs with precise color matching and shading in real time.
3D stickers can enhance a more immersive and engaging design experience with the ability to make real-time changes to the graphics before printing. The Dirt Bikes Graphics utilizes modern technology to ensure you get a professional look and feel for your bike graphics, making your bike stand out on the road. So, ensure you choose a graphic design provider with the latest technology for the best results.
Quality of Graphics Material
High-quality materials ensure the graphics last longer and look better on your bike. Vinyl is popular for bike graphics as it is durable, weather-resistant, and easy to install. However, not all vinyl is created equal, and it's essential to choose a provider that uses high-quality vinyl that won't peel or fade over time.
Look for vinyl with a strong adhesive and a thick, protective coating to ensure your graphics look great for years. Whether you want to restore an old bike, promote your business or brand, or add some style to your ride, the quality of the graphics material should be a top consideration. High-quality materials will look better and withstand the test of time and the elements.
The quality of the finish is another critical factor to consider when choosing custom graphics for your street bike. The finish refers to the texture and shine of the bike's graphics and can drastically impact your bike's overall look and feel. Examples of quality finishes include matte, glossy, and glitter.
Matte finishes offer a sleek and understated look, while glossy finishes are more eye-catching and reflective. Glitter finishes can add some sparkle and personality to your bike. When choosing a finish, consider your style and the overall aesthetic you want to achieve. Quality finishes will look great and provide long-lasting durability and protection for your graphics.
Reliability and safety are essential when choosing custom graphics for your street bike. Poorly made or poorly installed graphics can become a safety hazard if it peels or becomes loose while riding. Choosing a reputable bike graphic design provider with a track record of producing high-quality graphics built to last is essential to ensure reliability and safety.
It's also crucial to have the professional installation of your graphics by a trained technician to ensure a correct application that won't interfere with any vital components or functions of your bike. These precautions will help ensure that your custom graphics look great and contribute to a safe and enjoyable ride.
Quality and Functional Seat Covers
Don't overlook the importance of quality, functional, and practical seat covers when customizing your street bike. A good seat cover can add style and personality to your bike and improve your grip and overall comfort. When choosing a seat cover, look for durable, weather-resistant materials with good grip.
Leather, vinyl, and neoprene are popular materials that offer style and functionality. However, always choose the toughest for the job. Consider the design and color of the seat cover to ensure it complements your bike's overall look and feel. A well-chosen seat cover can be a simple yet effective way to customize your ride.
Conclusion
Choosing custom graphics and seat covers for your street bike is a great way to personalize your ride and make it stand out. However, it's essential to consider factors such as technology, materials, finish, reliability, and safety when making your choices. By taking the time to select high-quality and durable options, you can create a customized look that not only enhances your bike's appearance but also improves your riding experience.